ExecuJet MRO Services Belgium (ExecuJet), has appointed Nadia Coetzee as General Manager for its Brussels facility. In this role, Nadia will focus on expanding support to customers including the growth of its AOG support business. Nadia was born in South Africa and has a degree in business and financial management from Nelson Mandala University in Port Elizabeth, South Africa's Eastern Cape region. Coetzee was previously based at ExecuJet's global headquarters in Lanseria, near Johannesburg, in South Africa where she was the supervisor in charge of the company's technical services department. In that role she managed all aspects of aircraft maintenance projects.
Today talks between the Brussels Airlines management and the unions resulted in a cancellation of the announced strike somewhere in December.
The management made an offer in order to improve the working conditions, rest periods etc for the cabin crews. The unions will consult their members in the coming days but the strike is cancelled.
Meanwhile the Brussels Airlines pilots announced their intention to go on strike as well!!
'Black Friday' was introduced in the U.S.A. as the start of Christmas shopping and is the day after Thanksgiving.
The phenomenon is also known in Europe (and Belgium) for several years and now it also appears in the Belgian aviation world.
ULM Baisy Thy offers 25% reductions on several introduction flights (DPM, ULM (including the Stampe SV.4RS and the JMB Aviation VL.3))
see : https://ulm.be/nl/eshop/black-friday-2023

By 2026, Namur will be home to Belgium's first digital control tower centre, an innovative and complex project in terms of its implementation and use of cutting-edge technologies.
One single building, erected in Namur, for which SOWAER is the contracting authority, will house the future towers of the Liege and Charleroi airports and will eventually replace the former physical towers present at each airport.
Furthermore, camera masts will be installed at Liege and Charleroi airports. The specific equipment required will be supplied by skeyes.
This Monday 20 November marks the first tangible step in this ambitious project on the ground! The first mast equipped with these cameras is being erected at Liège airport, on the south side of the runways.
Norwegian carrier Wideroe, the largest regional airline in the nordic countries, announced the start of a twice weekly service from Bergen in Norway to Brussel. The service will be available from mid April on Monday and Friday. The company will use their Embraer Emb.190-E2 aircraft.


(Photo : Wideroe website)

The 3rd quarter of 2023 was the most profitable ever in the company's history. A positive figure of 72 million was registered by the company although there were some unexpected challenges, such as the closing of airspace over Niger and the rising fuel prices. A record profit is expected for 2023 at the closing of the year.
United Airlines announced that the Brussel to New York/Newark service will be flown twice each day as from 30.03.2024.. Today the company already offers a daily connection flown by a Boeing 787 aircraft. For the second flight the company will use a Boeing 757 aircraft.
From that date Brussels airport has four daily connections between these two cities. Also Brussels Airlines and Delta Airlines fly on this route.
NHV Group is excited to announce its collaboration in Taiwan with Apex Aviation, a local Taiwanese company. This partnership aims to provide innovative helicopter transportation services to the impressive offshore wind industry in Taiwan.
Given the ambitious construction and maintenance of wind farm projects in Taiwan, the establishment of a helicopter-based personnel transportation and emergency rescue service has become a growing demand for offshore wind operators

Joseph Kearton, Vice President of Strategic Development at NHV Group, added, "NHV is delighted to join forces with Apex Aviation to bring this innovative solution to the market. This collaboration will enable us to deliver a safe and reliable operation, mirroring the high standards our clients are accustomed to in the North Sea, in Taiwan."
Apex and NHV are determined to expedite the certification process for helicopter operations, with a launch date targeted for the fourth quarter of 2024.


(copyright photo ; Tom Buyse)

As did most major airlines, Brussels Airlines decided to stop all flights into Tel Aviv till next Saturday 14.10.23 included.
As from early October hall 2 and the mezzanine closed from midnight till 03.00 am. Starting on 16 October also the departure hall will close every night and from November the arrival hall and Diamant – level O will also close. Only authorized personnel and passengers with a valid boarding pass will be allowed into the airport building. The three hour period will be used for maintenance and a 'deep cleaning' of the airport infrastructure.
As from mid December Etihad Airways will fly from Abu Dhabi to Brussel on a daily basis. Until now the company offered five flights per week.
With this new schedule the company returns to the pre Covid-19 situation. The Boeing 787-9 remains the aircraft used on this service.
TUI has announced that they will start operating a Antwerp-Tel Aviv service as from December 14th, 2023. The new Embraer E2-195 aircraft make it possible to fly upto 4.455 km out of Antwerp Airport.
The Tel Aviv service will operate two return flights weekly: on Thursday and Sunday.
Tickets can be booked as from today at www.tuifly.be
Air Belgium announced that the company will stop all passenger flights. Until now the company did not manage to earn money with these operation. The company will try to continue with cargo flights and ACMI (aircraft crew maintenance insurance) operations for other airlines.
Air Belgium lost 44,6 mil. Euro in de previous financial year. The company hopes to be profitable in the third quarter of this year.
In the previous year the revenue was 228 mil. Euro compared to 131 mil. In 2021 when Covid 19 restrictions were in force. Since the company was started the combined loss is 91.6 mil.
After covid the company started new scheduled services. Services that where not profitable or had too much competition (eg. The caribbean and Rench Antilles)were stopped. The company also operates flight for third parties (ACMI or wet-lease)? At this moment an Airbus A.330 is operated for British Airways.
The Walloon region is one of the major share-holders of the company.


(photo Coll. Guy Viselé)
Today, the mayor of Antwerp Bart De Wever baptised TUI's newest addition to the fleet. OO-ETB was named 'Flanders' and will be joined by two sisterships that will carry the names 'Wallonia' and 'Brussels'. These three aircraft will be based at Antwerp airport as they can operate from short runways. The new type makes less noise, uses less fuel and takes more passengers over a longer distance than its predecessor.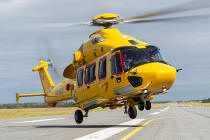 NHV A/S, has announced that they have secured a new contract from TotalEnergies EP Denmark, to support offshore operations in the Danish sector of the North Sea. The contract will see NHV deploy a dedicated H175 aircraft to transport personnel and equipment to TotalEnergies' installations in the Dan and Tyra Field. NHV's purpose-built base in Esbjerg will serve as the operational hub for the contract.

Today Flying Group presented the results for the group regarding 2022 as well as a view into the future of the company.
During 2022 the company made 7.254 flights carrying 17.140 passengers. These flights went to 635 unique destinations in 140 countries.
The company has nine offices in seven countries and employs 335 people including 207 flying staff. The company made a 155 million Euro revenue in 2022, a 41% rise compared to 2021.
In order to fulfill the request of existing and new customers the company recently ordered two Cessna 525B Citation 3+ aircraft as well as an additional Pilatus PC.24
Today Brussels Airlines announed that CEO Peter Gerber will step down from his post today and leave the Lufthansa Group.
Christina Foerster, member of the Lufthansa Group Executive Board, will take over the airline's leadership on an interim basis.
Christina Foerster knows Brussels Airlines well, having served there as Chief Commercial Officer from 2016 and as CEO between 2018 and 2020. A long-term successor for Peter Gerber is to be found as soon as possible.
European Flight Academy (E.F.A.) the flight school owned by the Lufthansa Group and Antwerp based Sky Wings Flight Training signed a partnership agreement earlier this week.
European Flight Academy trains future pilots in Germany and Switzerland and was looking for another partner as the Lufhansa Group controls airlines outside these two countries (such as Brussels Airlines!)
Skywings-graduates will have access to the internal Lufthansa job-platform.
At this moment Brussels Airlines is the top-employer for Skywings trained pilots, with 46% of their students flying for this carrier.

The airport saw 239.500 passengers in 2022, which is an increase of 63% compared to 2021. In business and private aviation there was increase of 13% to 2019.
At the end of the year we saw the start of the new Antwerp-Bolzano link and next week we'll welcome Luxair on the new Antwerp-London-City service.
If so, you must be at the Warwick Brussels hotel – Rue Duqueesnoy 5 – Brussels on Monday 2 January. Emirates is recruiting new staff to complete their multinational cabine crew team.
Today saw the official inauguration of the new Antwerp-Bozen/Bolzano service flown by Sky Alps.
The service is flown on Wednesday, Saturday and Sunday.
Departure Bolzano 14:15, departure Antwerp 17:05.
Brussels Airlines is preparing to fly almost 270.000 passengers during the coming weeks.
New York (long-haul) and Malaga (medium-haul) are the most popular destinations for passengers starting their trip at Brussels airport. Other long-haul destination with the most passengers on board are Dakar and Kinshasa (long-haul) and Tenerife and Rome (medium-haul)
Friday 23 December will be the busiest day (20.000 pax) followed by Monday 26 December.
Brussels Airlines announced today that it will receive a total of five brand new Airbus A.320NEO aircraft. Fleet renewal is the most powerful measure to reduce CO2 and noise emissions the company said. First deliveries are planned for 2023.
The two additional aircraft will arrive in 2024 and replace older A.319 aircraft.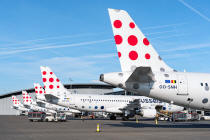 For the next summer season the company expects a 10% grow. In order to be prepared, the company will add four additional aircraft to the fleet and will hire around 200 additional staff.
Last week, JMB Aircraft, the Belgian controlled company producing the VL.3 Evolution aircraft, delivered the serial 500 aircraft to a Portuguese customer.
The aircraft is produced in the Czech Republic. The company plans to deliver up to 70 aircraft this year. The company is moving forward to expand the production capacity that will also accommodate a new four-seater aircraft.
JMB Aircraft is active in belgium from Amougies airport.
Since the introduction of the so called 'vliegtaks' (flight tax) the Belgian treasury received 11.6 mill. Euro.
This tax (10 Euro) must be paid for every passenger using a flight that is less than 500 km. On flights in the European Economical Zone (E.U. countries + Norway and Iceland), the amount due is 2 Euro and 4 Euro for every passenger flying from a Belgian airport on a long-haul flight outside Europe.
When introducing this extra tax, the Belgian goverment planned to cash 30 mill. Euro per year. An amount they will not reach !!
10/11/2022
New service at Charleroi airport


Starting last week, on 1 November 2022, Ryanair offers a service from Charleroi to Lodz in Poland. This service is available on Tuesday and Saturday. Lodz is de fifth destination offered by Ryanair from Charleroi after Warschau, Gdansk, Krakow and Poznan.
As from January 16th, 2023 Luxair will start operating service between Antwerp Airport and London City. Flights will be on Monday, Tueday, Thursday and Friday. During the Summer season there will also be a flight on Wednesday.



Prices start from 149 eur (incl. taxes)
Bookings :

www.luxair.lu/en
All operations at Antwerp Airport will be suspended between 19/09/2022 and 25/10/2022 due to urgent runway maintenance works. The top layer of the runway will be renewed as well as some parts of the foundation and the sewers. Contrary to what anti-airportgroups are proclaiming: THE RUNWAY WILL NOT BE EXTENDED!!! Also runway lighting will be replaced by sustainable LED lamps.

Between December 21st, 2022 and mid-April 2023 Italian carrier SkyAlps will fly 3 times/week (Wednesday, Saturday and Sunday) between Antwerp Airport and Bolzona. Service will be performed with a DHC-8 Q400.
15/07/2022
Flying Group and the VX4
Today FLYINGGROUP and Vertical Airspace announced a pré-order for up to 50 VX4 aircraft.
Vertical has already sold its VX4 to a diverse range of customers including aircraft lessors, airlines, and helicopter operators, including American Airlines, Virgin Atlantic, Avolon and Bristow. Today's announcement represents Vertical's first commercial agreement within the business aviation market, a further demonstration of the significant market demand for the VX4. This partnership increases Vertical's conditional pre-order book to up to 1,400 aircraft with a total value of $5.6bn.
The two parties have agreed to launch a Joint Working Group (JWG) to begin exploring FLYINGGROUP's application of using the VX4 in the business aviation market, including individual ownership, low volume operation and fractional ownership. The JWG will also explore the terms and conditions of a Maintenance, Repair and Overhaul (MRO) service centre, potentially granting FLYINGGROUP the right to perform MRO services for their fleet and to support their private sales.The piloted zero operating emissions four-passenger VX4, is projected to be capable of travelling distances of 100 miles (160 km), at a top speed of 200mph (320km/h), while producing minimal noise and has a low cost per passenger mile.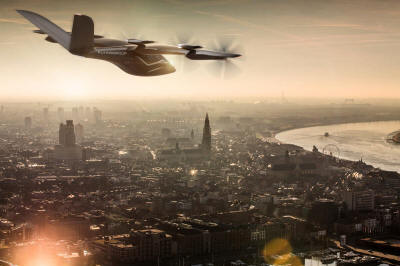 14/06/2022
Demolition activity at Antwerp Airport
It was already announced several months ago, but now the demolition of the C-hangar, next to the General Aviation terminal, started. A well known landmark at the airport will disappear. We were told that it will be replaced by another parking lot.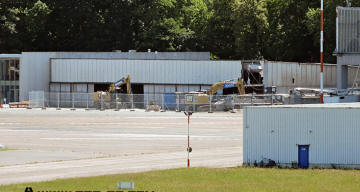 11/06/2022
New Air Belgium C.C.O.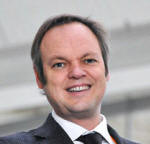 Today Air Belgium announced that Emmanuel Menu was appointed C.C.O. (Chief Commercial Officer) for the passenger activities of the company. He reports directly to Air Belgium C.E.O. Niky Terzakis.
Emmanuel Menu will be responsible for the start-up of services to South-Africa (Johannesburg and Cape Town) in a very competitive environment (slow exit from Covid, high fuel prices, weak Euro and the impact of the crisis in Ukraine)
Menu started his career with Sabena in 1989 and also worked for Jet Airways in the U.K. and Belgium before joining Brussels Airlines.
31/05/2022
NHV hits another milestone


NHV Group is pleased to announce that our fleet of Airbus H175 has achieved over 70,000 flying hours, a whopping 50% of the total 140,000 H175 flying hours worldwide.
Our success story with the H175 commenced in 2014, when NHV Group became the launching helicopter operator for this Super Medium Aircraft type. Initially, the aircraft started operations from Den Helder, since then NHV has gradually expanded its H175 operations to our other bases in the North Sea and West Africa, where we have accumulated experience and attained optimum reliability with the aircraft. Today, NHV currently operates eight H175's in Aberdeen plus two in Esbjerg.
We are delighted to have reached this noteworthy landmark as we consolidate our position in the oil and gas market where the H175 operates as the new standard. Jerome Fagot, Head of the H175 programme at Airbus Helicopters says, "Airbus Helicopters commends NHV for reaching their remarkable schievement of 70,000 flight hours using their H175 fleet. This represents over ten million nautical miles safely flown by their H175 fleet in support of the energy sector"
25/05/2022
Brussels Airport launches 'SHIFT 2027 – Wider horizons, Sustainable ambitions' program.

After two very difficult years during the Covid-19 pandemic, Brussels Airport announced that it is ready for the future. The 'SHIFT 2027' program gives an insight into the strategy for the next five years. The aircraft want to strenghen its position as important European hub, focus on sustainability and diversify its acitivities with a focus on innovation and cooperation.
23/05/2022
Sonaca Aircraft stops production !

In a announcement published today Sonaca Aircraft informs that it will stop the production of the Sonaca 200 aircraft. The company will focus on after sales support.
Sonaca CEO Yves Delatte states that this is a necessary decision, given that the number of orders is well below the break even point set by the Sonaca board.
As the company doesn't see a Covid 19 recovery of the General Aviation business in general and the flight training activities in particular before 2025, the decision was taken not to finance the acitivities of Sonaca Aircraft any longer. Production will stop after delivery of the 57th aircraft.
During the previous months the company talked to several partners for support in order to enter new market segments, unfortunately without obtaining an agreement.
Sonaca will offer all Sonaca Aircraft employees the option to join another department within the group in Belgium.

The cockpit section of one of DHL's B727 aircraft has been acquired by the Dakota vzw at Melsbroek where it will be put on display in their museum. It was in use by the VIVIS VLOC at Oostende as an instructional airframe. The Belgian Air Force operated B727's till they were replaced by A310's in 1998. The Sarens Group was responsible for the transport from Sint-Truiden/Brustem to Melsbroek.
04/05/2022
N.H.V. founded 25 years ago !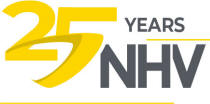 Twenty-five years ago, on the 15th May 1997, NHV Group officially began helicopter operations from Ostend, Belgium. Co-founders Eric Van Hal and Jef De Kinder launched the NHV Group and ever since the company has flourished, growing from a family business to an international group with 500+ employees and a strong geographic presence in Europe and Western Africa. Thomas Hütsch the CEO of NHV Group states, "We are very proud to celebrate this organisational milestone. From humble beginnings, starting with one base in Ostend, we have since made phenomenal development to achieve our leading position in the helicopter market." "Despite the oil & gas crisis, the pandemic, and major regulatory changes caused by the UK leaving the EU, our employees are the ones that have helped to shape NHV Group to be the successful company that we are today. We look forward to the next 25 successful years of safe flight operations."
08/04/2022
New Brussels Airlines COO
Ilman Reinshagen (40), currently Vice President Ground Operations Hub Airlines Frankfurt, has been chosen by the Lufthansa Group Executive Board as the new Brussels Airlines COO. He will join Brussels Airlines as of July 1st to head the operational departments of the Belgian airline (Flight Operations, Maintenance & Engineering, Ground Operations). Mr. Reinshagen's appointment is pending the approval of the SN Airholding Board of Directors.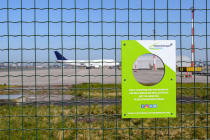 At 5 different locations you can now watch the movements and make pictures through the fence.
Some 10 special "spotters holes" have been put in place. These are large enough to let a telelens pass through.
More info on the locations and other spotters info is available on the airport's website:
Internationale Luchthaven Oostende-Brugge

Our national flag carrier will add two additional aircraft to its fleet: one Airbus A319 and one A320. This is earlier than foreseen in the REBOOT Plus planning
As from 15 December 2021 Air Belgium starts a twice weekly service from Brussels Airport to Punta Cana. From there the aircraft continues to Curaçao. This service is operated with the second Airbus A.330NEO that the company just received from constructor Airbus on Wednesday and Saturday.

Brussels South Charleroi Airport, the SOWAER, Eurocontrol, skeyes, SABCA, Ryanair, TUI fly and Air Corsica have today signed a collaborative agreement designed to reduce the environmental impact of airport operations, in the presence of Mr Jean-Luc CRUCKE, Minister in charge of Walloon Airports.
The creation of an environmental policy is a key component of sustainable development in the aviation industry. Reducing greenhouse gas emissions, as well as noise, whilst also improving air quality around the airport, are three of the top priorities for airports today, to which all the partners involved in this agreement are committed.

Brussels Airlines will add a 9th A330 to its fleet to reinforce its African fleet and will reopen its stations at Conakry and Ouagadougou and add frequencies to its routes to Freetown, Monrovia, Banjul and Lomé.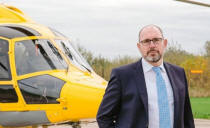 NHV Group is pleased to announce that Thomas Hütsch, the current NHV Group Chief Operating Officer has been promoted to the position of Chief Executive Officer with immediate effect. The outgoing CEO, Steffen Bay has resigned to move to a new position outside of the helicopter industry. "To become the CEO of NHV Group is a great honour and I look forward to leading the Group into a new era of growth with great enthusiasm." says Hütsch, "The quality of our teams, our modern fleet of helicopters as well as the international reach of the Group puts us in the ideal position to grow our reputation as a highly safe, reliable and flexible helicopter operator of choice." Thomas Hütsch joined NHV in July 2019 as Chief Operating Officer, coming to NHV with more than 30 years of leadership experience in several fields of the helicopter industry, including Airbus Helicopters and at ADAC; the large German automobile club where he managed the HEMS operations with more than fifty helicopters providing emergency medical services.
With hangardoors as large as a football field and a roof of almost 14.000m², the Belgian Air Force has inaugurated its newest hangars at Melsbroek. The building took less than 20 months and was built by Democo. It will be used to house the new A400M transport aircraft of the 15th Wing.
Low-cost carrier Easyjet announced that it will offer flights from Brussels Airport to three Italian destinations during the end-of-the-year holiday period. During only three weeks the company will fly to Naples three times a week and twice a week to Catania and Palermo.
Since to outbreak of the Covid-19 pandemic Easyjet only offers flights to Geneva and Nice from Brussels airport.
As from 19/12/21 Wizz Air will offer flights from Brussels South airport to Kiev. And on 01/06/22 the company will add a Brussels South to Lviv service to the network. Both routes are flown twice per week. Both destinations will be services with brand new Airbus A.321 aircraft. Wizz Air then offers 19 different destinations from Brussels South airport.
Earlier this week a major refurbishment of the Styl Aviation nv workshop started at the north side of Antwerp Airport. The building will receive new walls and roof as well as new doors. This will make this workshop not only very eco-friendly, it will result in a more happy working environment for the company 's workforce.
Starting on 4 December 2021 Wizz Air offers twice weekly services (on Tuesday and Saturday) from Brussels South airport to Suceava in Romania. As from 14 December 2021 the company also offers a twice weekly service between Brussels South and Debrecen (Hungary). This service will also be flown on Tuesday and Saturday.
Today Wizz Air offers flights to 15 destinations from Brussels South airport.
Early July the former DHL Boeing 727-223F – EC-IDQ (ex OO-DHT) was scrapped. The aircraft arrived at Oostende on 16 Oktober 2003 and was used by the VLOC as an instructional airframe.
On 1 July the aircraft was noted with the emergency exits and nose dome missing. On 10 July 2021 only the front section of the aircraft was still present.
(photo Bob Rongé)
Air Belgium announced that the service to Mauritius will start on 15.10.21 and will be flown with the new Airbus A.300neo aircraft. Two of these aircraft will replace the older Airbus A.340's that are operated at this moment.

As from the next winter schedule Ryanair will offer a weekly Brussels to Agadir service? This is part of the new Ryanair hub at Agadir
Today, 29 June 2021, The very famous black and gold painted Boeing Stearman 'Old Crow' was dismantled in the R.A.R. bvba workshop at Antwerp airport. The aircraft will be put in a container for shipment from Antwerp harbour to Savannah, Georgia, U.S.A. The owner and storyteller Hans Nordsiek decided to move to the U.S.A. and he takes his beloved aircraft with him. This is definitely a loss for the European fly-in and airshow scene.
Today Luxaviation announced its LXA Flyer program. In this program the company will operate five brandnew Beech 250 turboprop aircraft for charter operations. Two aircraft are already operational and one of these is assigned to Luxaviation Belgium at Kortrijk/Wevelgem airport. Luxaviation intends to take a share in the market segment dominated by operators flying Pilatus PC.12 aircraft.

During the past weeks, Brussels Airlines has noted a significant rise in the number of bookings. Thanks to the ongoing vaccination, the European vaccination certificate and the ease on travel restrictions the numbers have risen by 30 to 50% on holiday destinations.

Several Belgian news websites announced that Air Antwerp will go into liquidation. The company is unable to recover from the Covid-19 restrictions that resulted in almost one year without scheduled flights. The sole aircraft was already returned to the Swedish owner several weeks ago.
The winter season will see two new routes flown by Ryanair: Essaouira, Morocco (Thursday & Sunday) and Paphos, Cyprus (Tuesday & Sunday) will be added to the regular services. Both destinations will be flown by Boeing 737-800. Tickets are available on the Ryanair website.
Liege Airport and Saudia Cargo signed a commercial partnership until 2023. The company will increase cargo flights to and from the airport which, in turn, will be connected to Saudia Cargo's vast global network. Saudia Cargo is the air freight company of Saudi Arabian Airlines based in Jeddah with numerous operations in Europe. The company enjoys a solid reputation and is part of the world's largest air cargo alliance, Skyteam cargo. Saudia Cargo is famous for its premium air cargo shipping services of all types of cargo such as pharmaceuticals, e-commerce, live animals and many more. To boost Cargo activities and operational flexibility, Saudia Cargo has chosen Liege Airport as an additional airport in Europe for its regular cargo operations as well as for Charter flights.
As from 30 June ASL Fly Executive offers a twice a week service from Brussel to Ibiza using their Embraer Emb.135 aircraft. This service will be flown on Wednesday and Saturday till 18 August 2021.
At the same time the company announced that they will also offer an Antwerp to Innsbruck service again during the coming winter. This service will be available from 15.01.2022 till 26.03.22.
After many difficult months of travel restrictions and even travel bans, Brussels Airport, and home carriers Brussels Airlines and TUI are ready for the summer season. Particular attention will be paid to safety, with sanitary measures at the airport and on board the aircraft constantly strengthened and updated. Moreover, today, 95% of travellers leave Brussels Airport with a negative PCR test. As to the network served, Brussels Airlines will operate flights to 78 destinations and TUI to 75 destinations.

TUI is very positive after the long Ascension weekend. During this week the company operated 87 flights with a 92% or more occupation rate. In addition to the Spanish destinations the company restarted flights to five Greek destinations
Last week the airline received 14% more bookings than during the same week in 2019 (pre-Covid-19)
08/05/2021
Adapted Covid-19 rules for Belgian G.A.


In a note published on 7 May 2021 the Belgian C.A.A. adapted the Covid-19 rules for General Aviation flights in Belgium.
Flights with family members or very close contacts in one aircraft are possible again without any restriction.
Flights with 'third parties' are allowed when all on board wear mouth masks and handgels are used. The rules allow aeroclubs to offer introduction and initiation flights again.
Also balloon flights (with passengers) and paradrop activities can restart as from today.

Aerocircular, a company for dismantling aircraft, that started operations at Ostend Airport in 2019 with the help of an investment by the Flemish government has been declared bankrupt.
Brussels Airlines reported as loss of 70 milj. Euro for the first quarter of 2021. The company counted 192.000 passengers during the first three months of 2021, a reduction with 88%. (during the first two months of 2020 there was no Covid-19 impact).
The company only flew 1.791 flights, 87% less than in 2020.
During the night of 18 July 2018 the hangar of the Aeroclub van Brasschaat was completely destroyed by fire.
Almost three years later the construction of a new hangar has started. We presume it will be finished in the coming weeks.

As the restriction on non-essential travel is coming to an end on April 19th, TUI is planning to start flying out of Antwerp as from April 20th.
The company will fly twice weekly to Malaga (TUE&SAT), Alicante(WAD&SUN), Ibiza(MON&FRI), Mallorca (THU&SUN) and Murcia (WED&SAT).
On June 18th, a new destination will be added : Avignon which will be flown on Monday and Friday.
NHV Group today announced a new contract with PSE Kinsale Energy Ltd in support of its decommissioning operations in the Celtic Sea.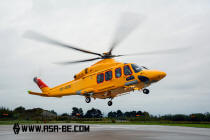 The transfer flights towards the Stena Spey drilling rig, about 50 km off the south coast of Cork, are expected to start in April 2021 for a duration of six to eight months. NHV AS Denmark, NHV's Danish branch, will be performing the contract. The agreement facilitates the provision of one dedicated Leonardo AW139 aircraft.

Under the current Covid-19 restrictions flight training was limited to student-pilots working towards a CPL/ATPL licence.
Under the revised rules implemented from 08 March 2021 flight-training for student-pilots working towards a PPL licence is possible again. But only for student-pilots who started their flight training before the start of the pandemic
If we understand the new regulations correct, flight training for new students is still prohibited.
NHV Group today announced a new contract with Allseas to provide helicopter services in support of the Energinet Europipe II Branch Pipeline project. The weekly H175 flights will depart from NHV's base in Esbjerg.
Yesterday the Morocco Health Secretary decided to immediately stop all flights between Morocco and Belgium. The reason is, as always, the Covid 19 pandemic.
There will be no services between the two countries till, at least, 21 March.
Brussels Airlines is slowly expanding its flight for holidaymakers
• 78 destinations for the summer time-table
• Focus on holiday destinations
• Start of the Brussel-Frankfurt service
• All tariffs remain flexible
As it is expected that demand for summer voyages will rise over the coming months, Brussels Airlines wants to offer its customers interesting holiday destinations.
Last year JMB Aircraft won the Fliegermagazine award for 'Best 600 kg UL Ultralight Plane'. This year the company is nominated again, this time for 'Best New Ultralight'.
The Fliegermagazine award is organised for the tenth time this year.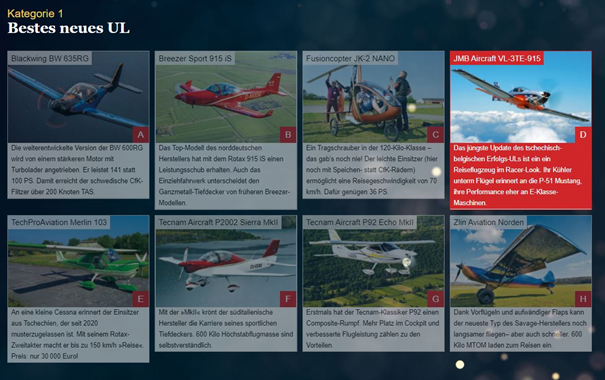 After almost 2 years on the ground, Boeing 737Max – OO-MAX - is the first TUI Fly aircraft that returned to service today. The aircraft left Brussels airport this morning for a flight to Alicante. During the previous days the company flew some 'operational readiness flights' in order to prepare the aircraft and crew for the return to service. These flights lasted about one hour including approaches on order to test the manual and automatic landings.

This year too skeyes is looking for new air traffic controllers. Candidates can register for the recruitment procedure from 15 February to 14 March 2021. It consists of five stages. Only those who pass each stage separately will move on to the next stage. Those who pass the entire process can start the training on 1 September 2021 to become an air traffic controller.
Candidates must hold a secondary education diploma, be less than 30 years old on the closing date for registration and be 18 years old on 1 September 2021.
It seems Air Belgium will cooperate with the French CMA CGM Group to start up a cargo operation. CMA CGM acquired two Airbus A.330 freighter that will be operated by Air Belgium. Air Belgium itself will acquire an additional two aircraft. All aircraft are former Qatar Airways machines. So the company intends to start operations with four aircraft on routes from Europe to China.
Air Belgium just announced the intention to start full cargo operations from Liège/Bierset airport using Airbus A.330 aircraft. The company plans to start operations with two aircraft as early as next month.
It is not clear if their is any connection with the announcement from Fedex that it will downsize operations at Liège airport. Air Belgium CEO Terzakis was, years ago, instrumental in the start of TNT Airways operations at Liège airport. So, this link certainly exists !

Flyinggroup recently signed an FBO agreement with Jet Aviation. Jet Aviation will support Flyinggroup aircraft with handling services on flights throughout Europe, the Middle East and Asia.
(source : Business Air News)

Flight training is allowed again as is training to obtain a car driving licence. For flight training some restrictions are still in use. The Belgian C.A.A. agreed to allow all training. But the Covid-19 expert group, who advise the Federal Government, suggested to limit flight training to student pilots working towards a Commercial Pilot Licence. So, all training flights for students hoping to obtain a PPL (Private Pilot Licence) are still prohibited at his moment.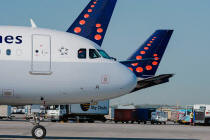 During Februart and March Brussels Airlines will cancel up to 900 flights. The reason is simple, a lack of passengers.
Some destinations as Barcelona, Göteborg, Rome and Wien will not be serviced during these two months. Several other cities will be serviced with a reduced number of flights. During February the company will only fly 7% of the flights offered in the same month last year. For March 12% of the flights are still planned.
The company fears that possible government restrictions on non-essential travelling may have an additional impact.
All flights to African destinations remain on the planning.
The two previous years were difficult for Noordzee Helikopters Vlaanderen (N.H.V.) due to the reduced workload for the oil and gas business and the Covid-19 pandemic
The company recently finalised and agreement with major shareholder Ardian and several banks. The company will also continue with the optimalisation of its fleet.
A long standing dispute with N.H.V. founder E. Van Hal was also solved.
(source : De Tijd)

After more than 22 months on the ground, the four Belgian registered Boeing 737MAX can return to service in the coming days. Normally the European Aviation Authority EASA will allow the return into service next week. The aircraft were grounded on 12 March 2019 as a result of a worldwide ban on this type after a second fatal crash.
Four TUI Belgium aircraft are since parked at Brussels Airport. We suppose that the aircraft will need some maintenance and checks before returning to service. The fact that these aircraft have been inactive for such a long period 'disappeared' in the massive turn-down as a result of Covid-19.

During the pandemic year of 2020 only 88.036 passengers passed through Antwerp Airport. Compared to the 306.330 in 2019 this is a decrease of 71,3%.
There was also a decrease of 34% in businessflights.
Delta Air Lines will fly a full freighter regular service between Brussels airport and Detroit starting on 18 January. Initially there will be two weekly services operated with Airbus A.330 aircraft. From February three weekly flights are planned.
Cargo will included Covid-19 vaccines produced in Belgium as well as medical equipment, pharmaceuticals and US mail.

Brussels Airlines and Tomorrowland invest in more sustainable transport for the world-famous part flights.
In 2024, the world-famous Tomorrowland party flights will be more sustainable. Brussels Airlines and Tomorrowland close a partnership to purchase 100% Sustainable Aviation Fuel (SAF) for all these specific flights. This can save up to 80% CO2-emissions1. Next to that, Green Fares are the standard plane ticket integrated in the Global Journey package for the international festival goers. Brussels Airlines aims to close more partnerships like this in order to reduce its carbon footprint significantly.
Tunisian carrier Nouvelair offers a Brussel to Monastir service from April next year.
Today, the company already operates flights from Brussels airport to Tunes and Djerba. The company operates around 11 Airbus A.320 aircraft.
Unions representing Brussels Airlines personnel announced a possible strike by the cabin crews during the Christmas holidays. According to the unions problems with scheduling and minimal rest/free time is a continuing problem that asks for a solution.
Skywings orders new aircraft Skywings Flight Training announced an order for four brand-new Diamond DA.40NG aircraft. These aircraft will operate from Antwerp Airport Last September the company also ordered a new DA40/DA42 flight simulator. Delivery is expected within six months.
For the first time in the company's history a brand new aircraft was added to the fleet. The aircraft, an Airbus A320neo, registered as OO-SBA, was handed over at Toulouse and arrived at Brussel this morning. Some minor modifications will be applied by the company's technical department before it will starts its commercial service.


(photo Brussels Airlines)
Some weeks ago TUI Fly announced a new Antwerpen to Tel Aviv service. The intention was to start this service on 14 December.
Due to the political situation in Israel the company now announced that the start of this service is postponed till March 2024.
At this moment the Belgian government also advises against non-essential visits to the region.

Antwerp Airport welcomed 101.256 passengers during the past summer period. This 0.2% increase of the pre-corona numbers.

Saudi carrier Flynas will start a Jeddah to Brussel service next December. Initially three flights per week are planned. The company will use the Airbus 320Neo.
At this moment there is no connection from Brussel to Saudi Arabia. Flynas is a fast growing airline with more than 50 aircraft in its fleet.


Skyalps has confirmed that they will be operating the Antwerp-Bolzano service during the coming winterseason. Flights will start on December 23rd, 2023 and flown till April 13th, 2024. The Thrice weekly service will be flown on Wednesday, Saturday and Sunday.
Transavia, the Dutch airline that started operations from Brussels airport last year, seems to be pleased with the results. Over 90% of the available seats were sold and Brussels airport becomes increasingly popular with Dutch travellers living in the southern part of the country. Next summer Transavia will add three new destinations to the Brussels operations (Bari, Marrakech and Thessaloniki). The company will also bring a third aircraft to Brussels.
As per October 30th, Luxair will fly the Antwerp-London City schedule twice daily on Tuseday and Thusrday. Ideal for the businessman who wants a day return.
NHV Côte d'Ivoire, a division of Belgian headquartered helicopter services provider NHV
Group, has been awarded a contract from oil and gas company CNR International Côte d'Ivoire to supply helicopter services in support of its offshore operations in Ivory Coast.
The contract began on 1 June and will run for five years.
NHV will operate two AW169 helicopters instead of the previously used Dauphin N3.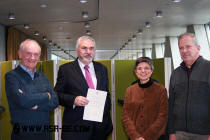 Yesterday, a delegation of the ASA board was invited by the governor of the province of Antwerp, mrs. Cathy Berx, for the hand over of the Royal certificate that gives us the right to carry the title of "Royal Association".
BMT Aerospace, a company specialized in making high precision products and complex assemblies for turbine engines, as well as mission critical aircraft components, celebrates more than 50 years successful partnership with the U.S. Aerospace Industrie. Today Flander's Minister President Jan Jambon visited the company to celebrate this event.
BMT Aeropace produces parts for the Pratt & Whitney F135 advanced fighter engine that powers the three variants of the F.35 Lightning II. The company also makes parts for the PW.1000 engine used for the Airbus A.320NEO, the A.220 and the Embraer E-Series airliners.
This morning saw the first flight of the new Antwerp-London City service flown by Luxair. There are 4 flights weekly (5 as from March 29th). Luxair operates a Bombardier Q400 Next Gen (DHC-8-Q400) turbo engined aircraft.
Brussels Airport's new airport tariffs have been set for the next five years : the loudest aircraft will pay up to 20 times more than the quietest from April 2023 onwards, and the tariffs will also take nitrogen oxide emissions into account.
Since the introduction of a larger environmental component in the charges in 2016 (factor 3), the proportion of flights operated by aircraft in the loudest categories at Brussels Airport has become three times less, reaching a record low share of 5% of the total amount of flights.
The tariffs are set for a period of five years after consultation with the airlines and under the supervision of an independent economic regulator. The new tariffs have now been set for the period from 1 April 2023 to 31 March 2028.
Since 2016, the quietest aircraft were already paying up to three times less than the loudest aircraft at Brussels Airport. In the new rates, this environmental component has now been strengthened, so that the loudest, most polluting aircraft pay up to 20 times more than the quietest, most modern aircraft. In addition, for the first time, NOx, a measure of nitrogen oxide emissions, is also taken into account in the tariffs; those who emit less NOx also pay less.
Aircraft are divided into eight noise categories. The share of flights operated by aircraft in the three loudest categories at Brussels Airport has fallen in recent years, from 16% in 2016 to only 5% in 2022. In addition, the share of flights by aircraft in the three quietest categories has increased from 20% in 2016 to 31% in 2022. This means that today almost 1 in 3 flights are already operated with the most modern aircraft. With the new charges, Brussels Airport wants to give airlines an even greater incentive to further invest in the modernisation of their fleet.
Today the Ryanair cabin crew announced their intention to go on strike in the New Year's weekend. They say that the company does not honor agreements made earlier this year. They also want higher wages and do not agree with the flexibility asked by the amagement from the flight attendants. As a result, flights from Charleroi/Brussels South airport may be disrupted.
Starting next week (on 28.12.22) Qatar Airways adds two additional flights on their service to Brussels airport. The company then offers nine flights per week connection Brussel with Doha.
Flights leave Brussel at 22.40 hrs and arrive at Doha at 06.55 hrs (J+1) and depart Doha at 15.10 hrs arriving at Brussel at 20.05 hrs.
Dakota vzw started the C.130H Heritage project. This is the second preservation project after the Boeing 727 nose and cockpit that is preserved at Melsbroek.
The basis for this project is the nose and 6 meters of the cargo haul from Belgian Air Force C.130H Hercules – CH03. The group is now working to make this weather resistant. When finished it will be moved from a hangar at Melsbroek to Kwartier Groenveld where the Dakota vzw is based.

Op 28 november voerde de Moldavische lagekosten-maatschappij HiSky, geregistreerd in Roemenië, haar eerste vlucht Boekarest-Brussel-Boekarest uit. Met de lancering van de route Boekarest Henri Coanda Int'l Airport naar Brussels Airport en terug begint de maatschappij officieel het winterseizoen met drie wekelijks vluchten (H4 245) op maandag, woensdag en vrijdag. Er wordt gevlogen met de A320. Vluchten starten vanaf € 49,- (one way)

De maatschappij heef een vloot van vijf toestellen (1 A319 en vier A320's) en krijgt er volgend jaar drie A321LRneo's bij.
Opmerkelijk detail - De openingsvlucht werd gevlogen door HiSky CEO en captain Iulian Scorpan.
Bucharest (OTP) 10:40 -12:20 Brussels (BRU)
Brussels (BRU) 13:20 -16:50 Bucharest (OTP)
Touroperator Corendon will base four aircraft at Brussels Airport for the summer of 2023.
They intend to double the number of seats available. Up to 260.000 passengers can travel with Corendon from Brussels airport next summer. Coredon moves part of their operations from Amsterdam/Schiphol airport to Brussels due to the delays for check-in and security checks at this airport during the previous months. Flying from Brussels airport will also be cheaper (lower fees and 26 euro extra tax per passenger – compared to 10 Euro in Belgium)
Today Jean-Pierre Martin, Emirates Country Manager Belux, announced that the company will return to the pre-covid situation as from 23 January 2023. There will be 14 weekly (2 daily) services from Brussels Airport to Dubai. Today there are 12 weekly services. The company will continue to fly this route using Boeing 777 aircraft.
The company will retrofit a major part of their Boeing 777 fleet. The aircraft will receive a totally new interior that includes a new 'Premium Economy Class' section. As the aircraft used on the Brussels service are the newest delivered, this option will only become available in the future.
Emirates also operates 4 weekly cargo flights into Brussels Airport (the Chicago - Dubai service with a stop in Belgium). The company also uses Liège/Bierset regulary for the transport of horses. Emirates and Liège/Bierset airport are both world leaders in this very specialised business.
Martin said that Brussels Airport gives 'good value for money' with limited disruptions compared to other major European airports.
He also stated that Emirates is not pleased with the Eco-tax the Belgian government introduced, based on a European regulation. He made it very clear that the company is certainly not against a contribution to preserve the environment. The problem is that it is totally unclear where the extra tax income is used for by the Belgian government.
Today Emirates has around 235 Belgian citizens working for the company as pilot or cabincrew. The company is still recruiting and organises recruitment sessions in Brussels (10 December 2022) and Antwerpen (29 December).
And… the Belgian Emirates team is convinced that they will be able to bring the Airbus A.380 to Brussels airport on a regular basis in the near future !!

Tui Group has selected Embraer's E195-2, the quietest and most efficient aircraft under 150 seats, to join the TUI Fly Belgium fleet. TUI, one of the worlds leading tourism groups, will take delivery of three E195-E2 from AerCap on long-term lease. The aircraft from AerCap's existing fleet and powered by Pratt & Whithey GTF engines, will be delivered in a comfortable 136 seat, single class configuration, in the first half of 2023. The aircraft will be used out of Antwerp airport and make new destinations further away possible. First aircraft will arrive at the beginning of 2023.
16/06/2022
F-35 Lightning II will attend Sanicole Airshow

This year the Sanicole airshow will take place on 10 and 11 September 2022. The highlight for military aircraft enthusiasts will certainly be the F-35 Lightning II, the aircraft that will replace the F-16 within the Belgian Air Force
The aircraft will be presented for the first time in Europe bij Kristin 'Beo' Wolfe from the 388e Fighter Wing based at Hill AFB, Utah.
Ticket sale starts at 21 June 2022 – see also www.sanicole.com for more info


After two years, Brussels Airlines is re-opening its routes to Conakry and Ouagadougou. These destinations will be flown three times a week using an Airbus A.330.
Brussels Airlines now has 17 destinations in the Sub-Sahara.

03/06/2022
FLYINGGROUP upgrades its offer to Saint-Tropez "La Môle" International Airport


FLYINGGROUP is delighted to announce that it has acquired the qualifications to serve this premium destination with its Pilatus PC-24 aircraft, allowing you to travel there in even more style than before.
FLYINGGROUP will help you navigate the challenging conditions for take-off and landing at "La Môle" airport, which may prevent an arrival or departure due to unpredictable changes in wind, temperature or precipitation, always with your safety as our primary objective.
25/05/2022
The Aviation Factory organises 'airbridge'

Today, a football final in the Conference League is played in Tirana (Albania). The Aviation Factory organises an 'Airbridge' between Holland and Albania. About 1.600 Feyenoord fans will fly from Rotterdam and Amsterdam airports on 11 flights (7 Boeing 737-800's, 3 Fokker 100's and a single CRJ.1000). The Aviation Factory chartered aircraft from five different airlines (TUI, Enter Air, Smart Wings, Carpatair and Hiberian).
19/05/2022
The Aviation Factory opens a U.S. office

Founded in 2000, Antwerp based broker The Aviation Factory is the leading company in the Benelux organising around 4.000 flights for business and private customers. The team comprises 25 brokers working from 10 different countries in Europe and the Middle East.
Now the company opens an office at Fort Lauderdale, Florida. The first goal is to service existing European customers looking for private flights in the U.S. and the Caribbean.
11/04/2022
R.A.R. bv restored aircraft wins award at Sun'n Fun 2022

Already 15 years ago Raymond Cuypers/Raymond's Aircraft Restorations bv finished the ground-up restoration of Boeing Stearman – N9912H – owned and flown by retired KLM Captain and 'Storyteller' Hans Nordsiek. Last year R.A.R. assisted in the shipment of this well known aircraft from Antwerpen to the U.S.A.
Last weekend this immaculate aircraft was awarded the 'Best WWII Custom Preservation' award at the 2022 Sun'n Sun flyin at Lakeland, Florida.
Congratulations to the proud owner and an even prouder restorer !!
07/04/2022
NHV hits flying hour milestone with AW.169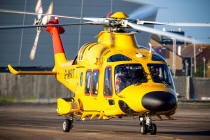 Last year, during the Covid pandemic, NHV started operating the AW.169 heli from its Blackpool base supporting the UK oil & gas market.
Now the company reached the over 1.550 flying hours mark. The company remained as flexible as possible during the Covid pandemic and even flew flight collecting offshore passengers experiencing Covid-19 symptoms and bringing them safely back onshore.
(photograph Danny Nixon)
During the summerseason, Brussels Airport will be welcoming 4 new airlines: Transavia, Flyr, PLAY and TUS Airways.
Three other companies are re-launching their services out of Brussels Airport: Delta Air Lines, Air Transat and CSA. While other airlines are expanding their services and schedules
The European Cockpit Association organised a survey to look at criteria as contractual arrangements, union relations and work-life balance. The intention was to get an idea about pilot satisfaction in the cockpit and how much of an attractive and social employer European airlines are.
In the top group called 'Social Excellence' we do not find any Belgian company. They are situated in the second group, the 'Social Partner' airlines. They still score high but most pilots see some room for improvement.
Top Belgian airline is the TUI group with a score of 84. Brussels Airlines got a score of 77. ASL Airlines, another important player in Belgium received a score of 71. Air Belgium is not included in the survey results.
Sonaca Aircraft just announced five new orders for their Sonaca. Four aircraft will go the New CAG Air Academy based at Charleroi airport. New CAG already flew more than 4.000 hrs with their Sonaca 200 aircraft. One will go to Blackbushe Aviation in the U.K. First deliveries are planned for Spring 2022.
The Sonaca 200 NG version is equipped with Garmin Gi275 digital instruments and is cleared for VFR night flights.
Today, Brussels Airlines presents a new brand identity, confirming its position in the market as Belgium's home carrier. Updated colours, a new logo and aircraft livery are the visual token of the airline's new chapter, stating its readiness for future challenges and re-emphasizing on the importance of the Belgian brand. A chapter with a strong focus on customer experience, reliability and sustainability while keeping a competitive cost-structure.

The new brand identity includes a new version of the Brussels Airlines signature red and blue colours, now a deeper red and a darker shade of blue. The dotted "b", which today adorns the tails of its fleet, makes way for 9 dots of different sizes in the form of a square, to represent the diversity of its customers, its destinations and its employees. No dot is alike. The updated logo also makes use of a new, more modern type font. The two words of the brand name are now stacked, with the word "brussels" gaining more importance with its larger size to emphasize the airline's Belgian identity. The new aircraft livery, shows a zoom on the dotted logo on the tails, a fresh white body and a continuation of dots in different shades of blue and grey.
U.S. carrier Delta Airlines announced that Brussel is one of six European destinations that will be serviced again as from next summer. Flights into Brussels Airport will restart on 26 March 2022. This service will be flown five times each week using Boeing 767-300 aircraft.
After an absence of 19 months, Thai Airways returned to Brussels Airport last Wednesday, 03 November 2021. This service is flown twice a week (Wednesday and Friday) with Airbus A.350-900 aircraft. Thailand is again open to foreign vaccinated tourists.

Thanks to a rising demand for flights and a competitive costs structure, Brussels Airlines has a positive result in the 3rd quarter of 2021.
Today, Air Belgium accepted, at Toulouse, the first of two Airbus A.330-900's. The company will operate this aircraft on long-haul flights from Brussels Airport. This aircraft can accept up to 286 passengers (30 business class, 21 premium class and 235 economy class). These aircraft will replace the Airbus A.340's that are still operated by the company today.
CMA CGM ordered two Boeing 777 freighter aircraft. We presume that these aircraft will complement the existing fleet of four Airbus A.330 freighters operated by Air Belgium from Liège/Bierset and Brussels airport. The Boeing 777 gives additional capacity as it is able to take more than 100 tons of revenue freight on flights up to 5.000 nmi.
JMB aircraft is thrilled to announce that the VL3 Evolution has been awarded again by Fliegermagazin , one of the most famous magazines in Germany, as a best ultralight plane of the year!
After receiving the innovation award only a few weeks ago by another German press Aerokurier, the VL3 Evolution now holds both trophies for the year.
"This is a second year our aircraft has been awarded in a row and we are really excited about it as the hard work our team puts in designing and manufacturing the VL3 proves we are on the right track." said the CEO of JMB aircraft, Jean Marie Guisset.
On Wednesday 07 July 2021 Belgian glider 'legend' Bert Zegels passed away. Bert started his career gliding at Keiheuvel. In 1974 he obtained second place in de world championship gliding at Waikerie (Australia) in the Open Class.
He later flew as a professional airline pilot for Delta Air Transport on Fokker F.28, Air Belgium on the Boeing 757 and Citybird and Korean Airlines on the MD.11.
The picture attached shows Fokker F.28 – OO-DJA – flown by Bert making an impressive low-pass at the Keiheuvel air show on 23 August 1987.
(photo Bob Rongé)
On 28 and 29 June 2021 a Gulfstream 280 and a Gulfstream 500 visited Luxaviation at Kortrijk/Wevelgem airport as a final stop of a European sales tour. The Gulfstream Aerospace sales team made this visit in an effort to sell their aircraft on the Belgian bizjet market where the long and middle range segment is dominated by their rivals Dassault Aviation and Bombardier.

An Airbus A.330neo (c/n 1844) was spotted at Toulouse with an air Belgium logo on the engine cowlings. It seems that Air Belgium intends to replace the three Airbus A.340 aircraft in service at this moment by two Next Generation Airbus A.330 aircraft.
Both aircraft, originally intended for Rwandair, are parked at Toulouse at this moment.

As a result of the visit of U.S. president Biden to the NATO Summit at Brussel, important restrictions on General Aviation flights will be implemented from 13 June till 15 June included.
In a 13 nm range around Brussels all VFR activity will be prohibited. All airfields/heliports in this zone will be closed, except Brussels Airport.
In a 30 nm range VFR flights can only take place based on a flight plan submitted at least 60 min before departure and are limited to transponder equipped aircraft. Flights in Class G airspace (= uncontrolled airspace) must stay in contact with BELGA information (129.325).
Aerobatic flights, gliding and parajumping activities as well as all ULM, DPM and balloon flights are prohibited during this period.
The precise timing of the activation of all these restrictions will be communicated later.
It will be quiet over Belgium during this period we presume !
Air Belgium will start a service from Charleroi/Brussels South to Curaçao as from 3 July. This service, flown with the Air Belgium Airbus A.340 aircraft, will make a stop at Martinique before flying to Willemstad on the Island of Curaçao. Corendon is aiming at Belgian customers who do not have to travel to Amsterdam to catch their flight.
The Belgian government still has to adapt the travel restrictions towards Curaçao in order to start this operation.

As from June 29th Eurowings will be flying out of Brussels South Charleroi Airport. The airline will organise regular flights to Pristina, the capital of Kosovo. Tickets are available via the company's website at a starting price of € 49,99.
This annual competition was flown at Saint Hubert from 22 May till 29 May. The new champions are Thomas De Bruyn in the Club-class, Dennis Huybreckx in the combined Standard, 15M and 20M and Jean-Luc Colson in the combined 18m - 20m and Open class.
Thomas De Bruyn flew the Rolladen Schneider LS.4 – OO-YBL/B4, Dennis Huybreckx flew the Rolladen Schneider LS.8 – D-1688/CM and Jan-Luc Colson the Schleicher ASG.29/18M – D-KCTC/TC.
This summer, Brussels Airport can offer no less than 175 destinations to its passengers. Everyone in need of holidays after this challenging year is sure to find what they're looking for in the wide range of destinations. The sanitary safety measures that continue to apply at the airport and the mandatory testing for almost all destinations combine to make the airport a very safe place for you to begin your holidays. 95% of departing passengers has a negative Covid-19 test certificate.
Air Belgium, flying three Airbus A.330 freighters for CMA CGM Cargo offers three additional destinations. After three U.S. destinations (Chicago, New York and Atlanta) the company will add Beirut, Istanbul and Dubai as new destinations in the coming weeks.
From its base a Liège/Bierset airport he company offers a rapid connection between these new destinations and the U.S.A.

Today Air Antwerp's sole Fokker 50 was ferried to Malmö for a C-check and temporarily storage as officially communicated. When and if we will see it returning remains to be seen. Whatever happens next, time will tell.
Ryanair announced another four destinations that it will service from Brussels South airport during the coming summer. These are Santorini and Heraklion (twice per week). Chania and Rhodos will have three flights each week until the end of Oktober.
Brussels Airport and skeyes are testing the operational use of drones at and around the airport this week. In a secure environment, an innovative safety drone is deployed, which can be controlled from a large distance to find out how drones can increase the safety, security and efficiency of airport operations. In addition, a drone detection system is being tested to detect unwanted drones, as these are not allowed in normal circumstances at and around the airport.
CMA CGM Air Cargo will add two U.S. destinations to their network. After Chicago, also Atlanta and New York will be serviced. Yesterday the second airbus A.330F was delivered to their Liège/Bierset base. The company will operate four Airbus A.330F aircraft. At his moment the first aircraft, OO-CMA, is flying a daily schedule from Liège/Bierset to Chicago.
Former Belgian Air Force Fouga Magister MT29 moved from Balen to a new location at Helchteren. It stands there along a former Czech A.F. Mig 21.


(Photo: Toon Cox)
Today, around noon, three Turkish registered Sonaca 201 aircraft left the Sonaca facility at Temploux airport on delivery to Ayjet in Turkey.
The United States Air Force has awarded the maintenance contract for their Europe based F-16's to SABCA. SABCA MRO in Charleroi is the expertise center for F-16's in Europe. The contract means work for the coming 10 years.
Swissport inaugurated a brand-new four-story office building at its Brussels air cargo facility. This opening is the latest milestone in the large-scale refurbishment of Swissport's Brussels cargo complex which started in January 2019 and includes 25,000 sqm of warehouse space and a state-of-the-art Pharma Center.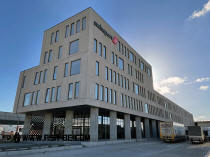 The opening of the office building allows Swissport to further improve the flow of trucks with a dedicated on-site queuing area right in front of the new acceptance office. Solar panels and a green roof of over 1,000 sqm will greatly improve the environmental performance of the facility. With its stunning airport views, the building provides employees and customers with a highly modern and motivating work environment.
Traffic on all airports is very slow due to the Covid-19 pandemic. Today the Antwerp Airport management used this opportunity to refurbish all markings on the runway and platforms. So, a lot of 'painting' activity today.
Also the demolition of part of the 'south hangars' has now started. This area will be used by 'De Lijn' to build a new facility for maintenance and parking of their public transport buses.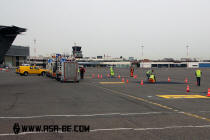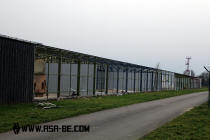 ASL Aviation has confirmed that it is taking up 10 options for the 737-800 Boeing Converted Freighter. This follows the original agreement with Boeing for 10 firm orders and 10 options, announced at the Paris Air Show in June 2019. The first 737-800BCF aircraft for ASL was delivered and entered service last month with ASL Airlines France.
(source : aviation24.be)
The ban on non-essential travel issued by the Belgian government was recently extended. As a result Air Belgium announced that it will not restart passenger flights to Martinique and Guadeloupe before 1 April.


Air Antwerp announced that the earliest restart of the service from Antwerp Airport and London/City will be 2 May 2021 !
Wizz Air will start a Charleroi/Brussels South to Sarajevo service on 21 May 2021 using Airbus A.320 aircraft. The service will be flown twice each week on Monday and Friday. Tickets are for sale for 19.,99 (!!) Euro.
Wizz Air now offers flights to 15 destinations from Charleroi/Brussels South airport.
NHV Group today announced a new long-term contract with Neptune Energy in support of its offshore Seagull Field development. Under the initial eighteen months agreement, the H175 flights will depart from NHV's base in Aberdeen to transport passengers to the drilling rig.


(photo Lloyd Horgan)
Still no improvement during December 2020. Passengers went down with 82.20% (338.110 versus 1.901.816 in 2019). The movements went down with 63.90% (6.308 in 2020 – 17.579 in 2019)
Full freighter cargo went up again. This month with 7.2% (15.492 tons) But the overall cargo went down with 8.90 %. Main reason is the belly cargo flown on passenger flights that went down with 59% from 14.716 tons to 6.035 tons.
Air Belgium announced that it stops (again) its scheduled flights to the West Indies from 30 January untill 1 March 2021.


TUI Fly is studying a possible suspension of all flights during February. All these decisions are based on the ban on leisure travel imposed by the Belgian government.
Fedex announced that up to 6.300 European employees will have to leave the company. The impact on the Belgian workforce will, almost certainly, be very important.
Paris/CDG airport will become the main European hub. This means that the number of aircraft (and parcels) at Liège/Bierset will reduce. More details are not known at this moment.
While the aviation sector worldwide was experiencing a nightmarish 2020, Liege Airport was one of the few airports in Europe and throughout the world to perform well. Our specialisation in the transport of goods (full cargo) made us a leading player, an essential link in the fight against the pandemic. We saw a 24% increase in the tonnage passing through the airport compared to 2019, going from 902,480 to 1,120,643 tonnes.
The lockdown also had a direct effect on consumption patterns, which is reflected by a boom in the e-commerce sector, a sector which has become much more important to us as we have handled over 500 million packages this year, compared to just over 320 million in 2019.
Passenger traffic decreased sharply, with 44,487 travellers in 2020 compared to 170,737 in 2020, a 74% drop.
The total number of aircraft movements remained stable with 40,300 flights (landings and take-offs) in 2020, compared to 39,886 flights in 2019. The growth of our cargo activities was in fact offset by the decrease in passenger flights, training flights and business aviation.

Last year, during 2020, Ostend airport handled a total of 52.659 tons of freight (+ 112.7%)
The number of passengers went down from 457.423 to 111.499 (- 75.60%)
Jota Airlines, a British carrier operating several former Belgian registered BAe146/Avro RJ.85's announced the start of an air bridge between Ostend airport and Birmingham. The company offers a twice daily scheduled service as a faster alternative for road transport. This will almost certainly be delayed as a result of Brexit. The aircraft used can take op the 10.5 tons of freight (up to 7 pallets of 9 cubic meters volume each)